go!coach customers tell their stories
Bruno Mettler, runner
I was able to achieve a new marathon PR (2:45:49) with the professional go!coach training plans. Thank you very much!!
---
Andreas Meyer, triathlete
A year ago I achieved a new PR at the ironman competition. In spite of the heat go!coach enabled me to reach my goal safely – 13:14:31 hours. So I was quicker than I had been in Roth the year before. I am really satisfied with the training plans - I can rely on them. And the condition graph shows me before the competition that I can be confident. Fantastic!
---
Armin Kiessling, triathlete
Hello, with a BMI of 28 and after nearly 12 hours at the Quelle Challenge in Roth, I was overjoyed. That was my first long distance race and with the go!coach training plans I could always be certain that I would succeed! Thanks!
---
Michaela Rupszus, runner
During the last three years I've run numerous 5 k, 10 k and half marathons and also the Berlin marathon. I can't stop and your plans give me the necessary motivation, even when I don't really feel like running. Besides, I've succeeded in losing 15 kg! Please continue and many thanks!!
---
Christian Timme, runner
I managed to run the Rothaarsteig run: 42,195km / 1090 elevation. What can one say about your training plans ...... they're fantastic! Before I started training with go!coach, I had tried various other coaching services, which were mostly a lot more expensive and more difficult to manage. As a student, go!coach is ideal for me, especially the price! With the most important thing, the training plans, I've only had good experiences as can be seen on my condition graph. My competitiveness improves from competition to competition.
---
Dr. Norbert Miethke, triathlete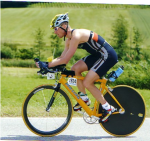 I've trained for the first time this season with your training plans. The first achievements can be seen in swimming and cycling. I hope I can achieve a new PB with my second start in the triathlon "stronghold" in Roth. Until then I look forward to the weekly training plans!
---
Jürgen Zippert, triathlete
Hi Coach, I improved my marathon PR in Bonn (3:33h) by 10 mins compared to last year. I'm curious about the next competitions!! Regards Jürgen Zippert
---