go!coach customers tell their stories
Angelika Clausing, triathlete
Hello go!coach, Now that my season is more or less over, I would like to give you some feedback on your training plans: 2. (AG) at 70.3 (half Ironman) in Mallorca 2. (AG) at Heilbronn City Triathlon 5. (AG) at 70.3 world championship in Las Vegas Thank you very much!
---
Bernd Holik, runner
My motivation for training is very high. I improved my PB by 5 minutes at the Heidelberg half marathon thanks to the fun and occaisonal surprises of training. I'm curious about how the first start at the triathlon in Roth is going to be!
---
Armin Gross, triathlete
I was pushed to top level of competitiveness with the go!coach training plans this year and achieved the qualification at the Frankfurt Ironman for Hawaii for my age group with 9:37:47 - my PB!
---
Martin M., runner
Now that my main runs are over, I would like to tell you the results. I improved my 10 km time by 2 minutes and my half marathon by 3 minutes and all this with less training and more fun! Thanks and keep on running! P.S. I wasn't seriously injured this year.
---
Henry Frommert, runner
Thanks for your support during training with the go!coach training plans. I have improved my PB by over 15 minutes and could finish the New York marathon in fantastic condition, as can be seen by the photo! Thanks again and best regards - Henry
---
Stefan Bopp, triathlete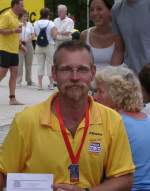 Thanks to the go!coach team I finished my first triathlon in Roth in 11:34 hours - well under what I was expecting. (1:19-5:45-4:21) Right up to the finish I waited in vain for the exhausting long distance! The whole thing was amazing! This is what makes triathlon fun!
---
Christian Trollmann, runner
Two years ago I never would have thought that running with a plan could be so much fun! Above all, it's really exciting to watch one's condition graph! Thank you.
---